Eberhard & Co. watches
THE ART OF CHALLENGING TIME
The history of Eberhard started in 1887 in La Chaux-de-Fonds, the cradle of watchmaking, thanks to Georges-Emile Eberhard, a young man who inherited the passion for horology from his father, a watchmaker.
In 1919 the company launched its first chronograph with a hinged bottom and articulated loops.
In 1926 the control of the company passes to the sons Georges and Maurice that created the first automatic wrist watches of the brand which will become part of the equipment of the Officers of the Royal Italian Navy, the naval army of the Italian Kingdom.
After the end of the Second World War, the property decides to offer a line of watches dedicated to women and in the 50's , one of the most iconic models of the fashion house was born: the Extra Fort.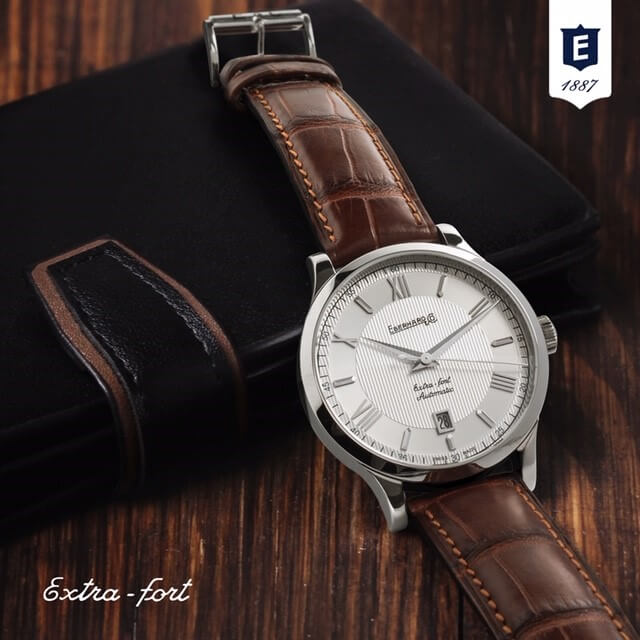 In 1962, after the disappearance of his daughter, Maurice sold the company to foreign investors, a moment that marks a revolution for the Eberhard & Co, which will produce also quartz watches. The Swiss brand has a strong bond with Italy and in the 80's dedicates the Chronomaster model to the Tricolor Arrows, and in 1992 to Tazio Nuvolari, famous racecar driver of Formula Grand Prix.
The next icon of the fashion house will be the Traversetolo in 1996 but one of the biggest successes is definitely the Chrono 4, which sees chronograph counters in a row, side by side. In 2007, for the 120 years of the company, "Chronographe 120eme Anniversaire" and 2008 's 8 Jours are lauched on the market.
Eberhard and Co. is therefore a synonym for quality and precision for many years, and the charm of the name is still very strong today being a name that is associated with pilots, explorers and businessmen from all over the world.