There are 1571 reviews.
Post a review and try to win a discount.
Average votes

5.0 / 5

1571 advices

Why review our products?

You help other people in their purchases by sharing your experience.
Gold bracelet
Looks amazing! ☺️
Arcadia, bracciale in oro 18kt giallo con bandiere nautiche e filo di cotone marino
Prodotti belli
La linea arcadia e stupenda
Impeccabili
Ho effettuato un ordine (cinturino con fibbia) ed è arrivato dopo solo tre giorni. Aperto il pacco mi sono accorto che mancava la fibbia e contatto il negozio dove mi passano il responsabile delle vendite online dove si è immediatamente messo a disposizione per risolvere la cosa ( solo chi non lavora non ha sviste). Il giorno dopo lo arriva la mail per la spedizione della fibbia che è arrivata il giorno dopo. Mi ha colpito molto la professionalità e precisione. Consiglio davvero tanto questa gioielleria dove si percepisce tantissima serietà.
Descrizione del prodotto
Non riesco a vedere il peso !
Longines Conquest 39mm!
Orologio stupendo, spedizione ultra rapida ed il sig. Spagnoletti, una garanzia!!!
Orologio fantastico
Ho chiesto info per questo orologio e come sempre ho ottenuto una descrizione minuziosa ed ineccepibile, dal sig. Alfredo. Per un futuro acquisto.
Negozio molto fornito
Negozio tra i più forniti in zona e personale cortese e molto disponibile
bracciale
e davvero un ottimo prodotto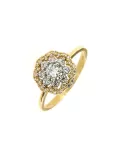 Spagnoletti Gioielli 1945, anello in oro giallo 18kt con pietre di cubic zirconia
Bellissimo
Un gioiello raffinato e d'effetto, nel sapiente stile artistico della Casa Spagnoletti. Molto bello.
Bellissimo gioiello
Molto raffinata la lavorazione dell'oro,, che conferisce una luce particolare alle pietre e a tutto il gioiello.. Bellissimo..
Bracciale
Ho comprato un bracciale in oro veramente bellissimo, La consegna mi è arrivata in pochi giorni. Grazie mille è al più presto
Bellissimo
Anello antico di bellissima luce e diamante taglio rosetta.