There are 1378 reviews.
Post a review and try to win a discount.
Average votes

5.0 / 5

1378 advices

Why review our products?

You help other people in their purchases by sharing your experience.
Gioglielleria spagnoletti
Precisione cordialità orologio fantastico prezzo ottimo consiglio vivamente questa gioglielleria consegna rapida e precisa personalmente farò senz'altro nuovi acquisti alla gioglielleria spagnoletti il mio parere è eccellente grazie
Hydroconquest auto 41mm nero
Ottimo rapporto qualità /prezzo per un diving
Gran bella gioielleria vasta gamma di orologi e prezzi scontati o visitato tanti altri siti ma con questi prezzi non si trovano consiglio vivamente questa gioglielleria
Ottimo
Orologio semplice ed elegante, ben rifinito
Cortesia e professionalità
Personale cortese gentile e preparato. Pronto a consigliare i clienti sull'acquisto.
Anello Croce
Anello delizioso ,imballaggio super come la spedizione venditore serio e professional,,consigliatissimo ,per la serietà grazie di tutto alla prossima .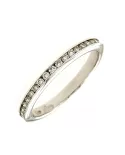 Spagnoletti 1945, anello Vera in oro bianco 18kt e diamanti 0,60 ct
Serietà e professionalità. Persone disponibilissime ed attente ad ogni esigenza del cliente.
Medaglietta ottima
È stato un vero piacere acquistare da voi per il prodotto ottimo e soprattutto per la consegna velocissima
OTTIMO BRACCIALE ARCADIA BANDIERE NAUTICHE
Bracciale di ottima qualità, ben refinito ed elegante sportivo Ho ricevuto una buona confezione del pacco,ben accurata Ottimo Customer Service, grazie alla Gioielleria Spagnoletti
Anello con croce
Tutto ok .Ottimo venditore
Serietà e qualità
Gioielleria seria e professionale, prezzi onesti, vasta scelta di gioielli anche usati
A dir poco stupendo
Bracciale bellissimo e spedizione super veloce. Una garanzia! Stra consigliato!
Excellent store
Excellent store and very fast shipping Item received as ordered and it was perfect fit Highly recommend this store Definitely 5 star rating
Magnifica Orologieria
Molto professionali